2024 Honor Band Selections have been finalized.  Click HERE to see the list of selected students.
Students must confirm their participation by December 6, 2023 or an alternate will be selected.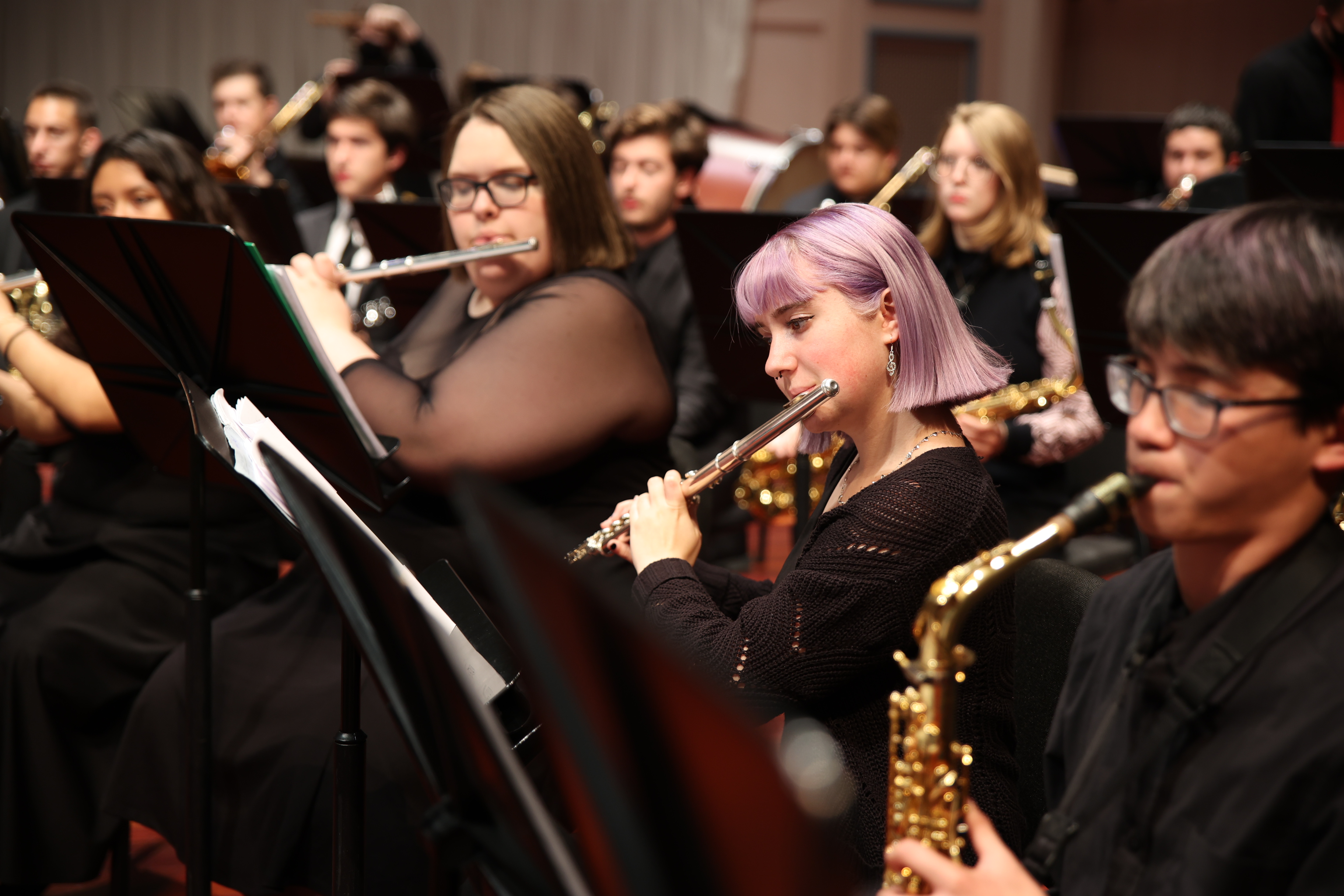 The Honor Concert Band is an honors ensemble that performs annually at the IMEA Professional Development Conference. It is comprised of high school students selected from a pool of nominations sent in by IMEA Member Band Directors. This prestigious performing ensemble works with an esteemed guest clinician from around the country and gives students an opportunity to play with other high-caliber students throughout the state.
When:
IMEA Professional Development Conference, January 11-13, 2024
Where:
Embassy Theater
125 W Jefferson Blvd
Fort Wayne, IN 46802
Cost:
The fee for each student is $195. This cost includes hotel housing and meals during the rehearsal period.
Student Musician Selection
The philosophy of the IMEA Honor Band is a little different from a typical "auditioned" all-state group. We are interested in getting as many schools represented as possible while still maintaining the highest quality of personnel. We do not guarantee we will take one student from each school but will attempt to get as many schools represented as possible. Directors may nominate up to 8 students per school. The following criterion will be used by the IMEA Honor Band selection committee:
A student's participation in the ISSMA Solo/ Ensemble contest (Group I solo, Gold rating level at 

State 

will be given the greatest consideration. Difficulty of solo literature is considered as well as list titles)

A student's previous participation in the IMEA Honor Band or other state honor bands (IBA All-State Band, IBA All-district, college all-state ensembles, community ensembles, etc.)

Whether or not the student studies privately on his/her instrument, and if so, for how long, etc.

Grade level is considered, with priority given to upperclassmen.

Your recommendation as their director.  Please be honest and consistent.
Teachers
In order to nominate students to the Honor Band, you must be an IMEA member.
When you are ready to nominate students, please ensure you have all the information listed above for each student. The Honor Band Student Data Collection Form can be distributed to students so that you can collect their information.
Directors must complete their nominations online. When you have all of the relevant information collected, you can visit our nomination form below. 
Honor Band Nominations for 2024 are now closed.

Questions? 
Contact David Elliot, Honor Concert Band Chair
---
2024 IMEA Honor Band Clinician:  Trae Blanco

 Dr. Trae Blanco serves as Director of Bands at Butler University where he conducts the Wind Ensemble, teaches undergraduate and graduate conducting, and administers the band area. After completing his BME at New Mexico State University (NMSU), Dr. Blanco has served as Director of Bands at Las Cruces High School. Dr. Blanco holds a DMA in wind conducting from the Herberger Institute at Arizona State University, and a MM in Wind Conducting from the Jacobs School of Music at Indiana University. Prior to coming to Butler, Dr. Blanco served as Director of Bands at Murray State, and the University of Southern Maine. In July 2015, Dr. Blanco was a guest conductor with the United States Army "Pershing's Own" Concert Band in Washington, D.C. and in both 2015 and 2016 Dr. Blanco was a finalist in the American Prize in Wind Conducting. Dr. Blanco has published articles with the NBA and WASBE journals, and has been an invited presenter at the state conventions of West Virginia, Maine, The Midwest International Band and Orchestra Clinic, and the 2019 WASBE International Convention in Bunol, Spain, and the upcoming 2024 conference in Soul, Seoul, South Korea.
2024 Repertoire
A Glorious Summer Day - Satoshi Yagisawa
Chasing Sunlight - Caitlin Nishimura
Four Shaker Songs - arr. Frank Ticheli
La Silla - Juan Pablo Contreras
Mambo Perro Loco - Julie Giroux
Quicksilver March - William Owens

Parents
We welcome and encourage parents to attend the Honor Band concert at no additional fee!
Questions
Contact the IMEA office. Email [email protected]. 

Related Documents
Photography provided by: Bateman Photography